What is Cracked Lips?
Cracked lips, also called as Chapped Lips is a condition where your lips are dry, peeling, or cracked. Breaks can be visible in the lips that can cause an individual lips to become painful and bleed. Usually cracked lips don't mean that an individual has a serious medical condition and it doesn't pose any medical risk. The reason why people have cracked lips is that the oil that is naturally created by the body that coats the lips is deficient.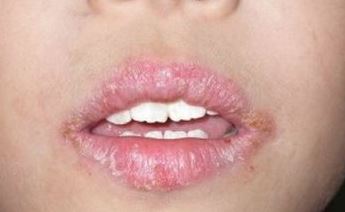 Crack Lips Image
Symptoms of Chapped Lips
There is a loss of moisture
The patient can experience slight pain
There is a feeling of dryness
The lips become rough and reddish
Bleeding
Peeling
Causes of Chapped Lips
One of the reason is over exposure to the sun
Exposure to cold wind
Dehydration
Use of soaps that removes the natural moisture of the lips
There is a lack of Vitamin A, B, C in the body
Allergy
Infections
Frequent smoking
There is a lack of Vitamin B2
Skin disorders
Common Cold
Treatment for Chapped Lips
Application of sunscreen in the lips to add for protection
Applying lip balm especially during cold weather
Increase oral fluid intake especially during workouts or any activities that let you body perspire a lot.
Reduce or change medications that causes a person to have a chapped lips but always ask the doctors advise about the changing and reducing the medicines
Apply moisturizer on the lips rather than wetting it using your tongue
If a person use lipstick, make sure that you put a moisturizer first before you put on the lipstick
Always apply a moisturizer on your lips at night
Never peel the dry skin from your lips instead use a moisturizer on the affected part and it will go automatically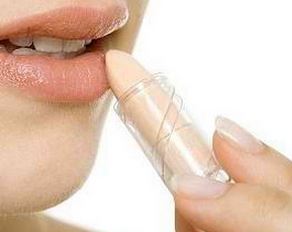 Apply Lip Balm on the lips to help maintain the moisture of lips.
Image Source: octaviana.com
Home Remedies for Chapped Lips
One of the most recommended remedy is to drink a lot of fluid to avoid dryness in both skin and in the lips.
Applying Lip Balm or Petroleum jelly on the lips to help maintain the moisture and to remain smooth.
Pure butter is also known for treating Cracked Lips.
Mixture of Rose petals and raw milk would help in treating dry lips and retaining the pinkish lip color.
Milk Cream is effective in removing dry dead skin and it also help to maintain the lips to be smooth.
Cucumber is also known to cure cracked lips
The juice from the grind Neem Leaves will also help to heal cracked lips.
Aloe Vera is also known to heal dry cracked lips.
Intake of foods that is rich in Vitamin A.
Mixture of Glycerin and honey will make a person lips become soft and smooth.
Castor oil is also known to cure dry cracked lips.
Apply sun screen in your lips to prevent dry patches and it helps heal dry lips.
For women who put lipstick, it is advised that you should put a moisturized based lipstick to maintain the moisture of the lips.
Wetting the lips with tongue can make the lips become darker in color and lose moisture so it is advised to use lip balm.
Leave a Reply